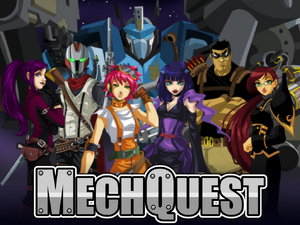 MechQuest is a free online browser-based single-player role playing game developed by Artix Entertainment, the makers of AdventureQuest. It was launched on the 1st of October. It is currently in the 'OMEGA V.3'. It is "'Heavily inspired by the art from of every mecha & giant robot series ever created (and we are throwing in magic and laser swords just because.) We will be putting a true "anything goes" build and battle "lunchbreak sized" game.'" This game was first announced in the Dragonfable design notes.
Like AdventureQuest's Guardians or DragonFable's Dragon Lords, Mechquest has the possibility to upgrade an account to Star Captain. This will grant access to several new mech chassis, as well as the ability to buy a star cruiser. Also, if a player is a Guardian in AdventureQuest, or has a Dragon Amulet on DragonFable, they can access two more powerful chassis. These are available after verifying their account. These will be relative to the accounts in question. If, for instance, a player were to have only one upgraded account; they would only have access to one new chassis. But if the player in question were to have upgraded accounts in AdventureQuest and Dragonfable, the said player would have access to both. Maxwell, animator for AdventureQuest, has been quoted to say, "Just to clear anything up, MechQuest is the renamed form of Assault Mecha."
Gameplay
MechQuest is a single player RPG; however the character data is stored on a server. Players control their character via pointing and clicking on the screen in various areas to navigate the player character to the point where they click. Most items are activated either simply by running into them, or by pressing a button that will appear when the point is reached (when outside of battle). Battles are presented in two ways, Mecha battles and energy blade battles, both battle styles are similar to a traditional RPG in that much of its game play revolves around fighting enemies in a turn based system. Mecha Battles features a set of many types of attacks but the player must spend energy points to use them.
Setting
MechQuest takes place 5,000 years before Battleon is built and 4,995 years before DragonFable.
External links